Elephant Village :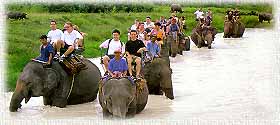 Departure: Everyday
The elephant round-up at the Elephant Village is literally a large gathering of herds of elephants. These gigantic beasts have long been the backbone of heavy work in the jungles of Thailand. The thrilling events include spectacular demonstrations of elephant capture, the daily life of elephants and their masters, elephants being trained, worked and fed,
elephant riding and an ancient war, elephant dressed for your photograph.
Price: Priced at 700 Baht per person. Includes transport, entrance fee and fresh fruits in the end.
Designed by Angel Enterprises.
© Copyright 2000-2002 Malee Travel. All rights reserved.