Elephants at Work :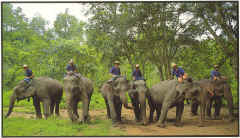 Departure: Everyday
Morning tour to Elephant Working Site in the forest to see how big elephants are used in hauling logs. Continue to the beautiful Orchid Farm.

Price: Please click here for sending us a quick email. And we will send you the rates within a few hours.
Designed by Angel Enterprises.
© Copyright 2000-2002 Malee Travel. All rights reserved.