Chantaburi Tour :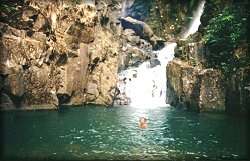 Departure: Saturdays
Pick up from hotel at 07:30 am, depart from Pattaya at 08:00 am. Our tour will start in Wat Kao Sukhim and it's collection of art and craftsmanship.
Then proceed to a small street where the occupation of the residents are cutting gemstones. Rubies & green, blue and white sapphires are being cut and polished. Before lunch we will visit the first and oldest church in Chantaburi, The Immaculate Conception. After lunch we will continue our trip to the Pliew water falls where you can swim, feed the fish or walk around and feel the friendly atmosphere away from the bustling city and only the sound of the water fall and crickets will be your sound of music. On the way back to Pattaya we might stop in the fruit market where fruits in season are being sold. Arriving in Pattaya at 18:00 pm and to your hotel.
Price: 1,300 Baht per person. Tour includes lunch & entrance fee.

Designed by Angel Enterprises.
© Copyright 2000-2002 Malee Travel. All rights reserved.