Bangkok Special (2 Days 1 Night) :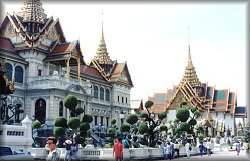 Departure: Mondays
Day 1 - Departure from Pattaya at 07:00 am preceding to Wat Pho, the Temple Of The Reclining Buddha. After that we continue to The Royal Place and Wat Pha Kaew, home of the most sacred relic of Thai Buddhism, The Emerald Buddha. Lunch at a restaurant and after we will visit the National Museum before getting a long tail boat along the Chao Phraya River for sightseeing the nature and the everyday life of the Thai people along the river. Then to the hotel and the near by shopping center and the most famous night entertainment area Phatphong street.
Day 2 - After breakfast at 9:00 am we shall leave for Wat Trimite, the biggest Golden Buddha Image and continue to The Wimammak Palace where there is the biggest Gold Teakwood Building in the world. Lunch and then proceed to the best jewelry factories in Asia. When we finish here our tour will return back to Pattaya at 5:00 pm.
Price: 3,000 Baht per person (single suplementary 600 Baht) one breakfast, two lunches with soft drinks, admission fees and accommodation 1 night by twin sharing is included.

Designed by Angel Enterprises.
© Copyright 2000-2002 Malee Travel. All rights reserved.